Bài tập thực hành Cụm danh từ trong Tiếng Anh
Bài tập 1: Sắp xếp các tính từ sau theo đúng trật tự
1. a black and white(a) | broken(b) | old(c) TV
2. a/an orange(a) | round(b) | plastic(c) | strange(d) toy
3. a cooking(a) | English(b) | thin(c) | old(d) book
4. a/an Mexican(a) | incredible(b) | beautiful(c) dish
5. a/an light(a) | unhappy(b) | online(c) | Japanese(d) novel
Bài tập 2: Sắp xếp lại thứ tự của các từ đã cho sau:
1. wedding/ dress/ she/ long/ wore/ white/ a.
-> ………………………………………………………..
2. woman/ English/is/an/ young/ intelligent/ it.
-> ………………………………………………………..
3. is/ bag/ this/ sleeping/ black/ a/ new.
-> ………………………………………………………..
4. pink/ he/ house/ bought/ big/beautiful/ a.
-> ………………………………………………………..
5. gave/ wallet/ him/ she/ brown/ small/ leather/ a.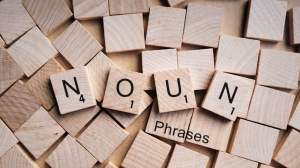 Bài tập 3: Chọn đáp án đúng
1. _____________
A. a pair of sport new French shoes
B. a pair of new sport French shoes
C. a pair of new French sport shoes
D. a pair of French new sport shoes
2. _____________
A. a young tall beautiful lady
B. a tall young beautiful lady
C. a beautiful young tall lady
D. a beautiful tall young lady
3. _____________
A. an old wooden thick table
B. a thick old wooden table
C. a thick wooden old table
D. a wooden thick old table
4. _____________
A. a modern Vietnamese racing car
B. a Vietnamese modern racing car
C. a racing Vietnamese modern car
D. a modern racing Vietnamese car
5. _____________
A. a new interesting English book
B. an English new interesting book
C. an interesting English new book
D. an interesting new English book.
4. Đáp án
Bài tập 1:
1. c – b – a
2. d – b – a – c
3. c – d – b – a
4. b – c – a
5. b – d – c – a
Bài tập 2:
1.She wore a long white wedding dress.
2.It is an intelligent young English woman.
3.This is a new black sleeping bag.
4.He bought a beautiful big pink house.
5.She gave him a small brown leather wallet.
Bài tập 3:
1. C
2. D
3. B
4. A
5. D
Với phần bài tập cụm danh từtrong Tiếng Anh trên sẽ giúp bạn "rà soát" lại kiến thức mình một cách dễ dàng nhé. Còn thắc mắc nào; đừng ngại mà để lại bình luận dưới đây nhé.